Recently I came across Air-bnb's list of the 30 best things to do in Austin, I was skeptical at first but when I read the list I realized it had all the things I suggest Austin visitors do and see, and that we had already knocked at least 15 of their suggestions off the list. I became determined to finish the lists and our date nights lately have centered around this goal. Later, I realized they have a list like this for a lot of cities and decided I will be using it as a jumping off point when Josh and I visit new places. Below is the list I'm slowly ticking off one thing at a time, maybe a few photos as well as some commentary on the item because it's my blog post and I'll do what I want to. See if they have a list for your city, it's a pretty cool way to be a tourist in your own town.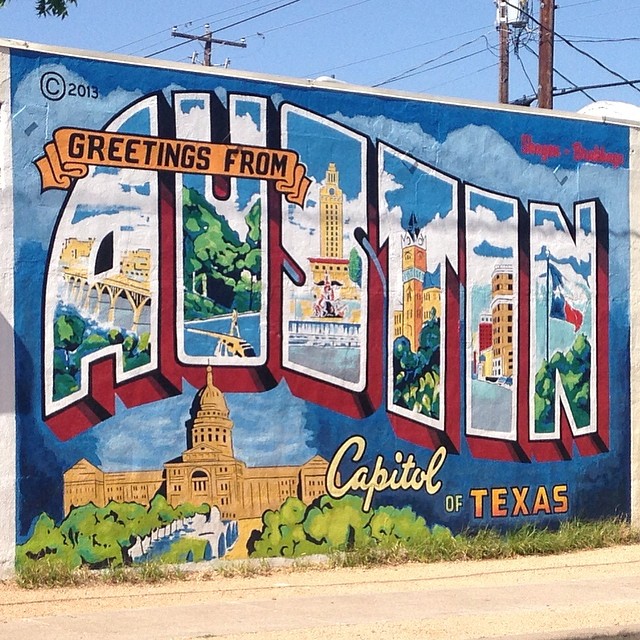 Barton Springs Pool
Franklin's BBQ
The Continental Club  – A cool bar with live music, ended up here one night when our friend was visiting. They were playing country music and I even got Josh to dance with me.
Bouldin Creek Cafe – Vegetarians rejoice! This sweet little joint Josh had already been to and a few date nights ago, I got to go with him. It takes a VERY good vegetarian place to keep Josh coming back. I also credit this place with inspiring the yogurt bowls that have been his go-to breakfasts of late.
HopDoddy – Another SoCo location place so we had the advantage of getting to go here during non peak hours so we got to skip the long lines and walk right in. Seriously DELICIOUS burgers.
Uchi
Homeslice – Another SoCo spot that was a 2 minute walk from our old apartment. I heard a new yorker say that it was as good as NYC pizza. I say it's better, because you get to be in Austin when you eat it.
Alamo Draft House South Lamar – This is our go to date night more often than not. Hard core enforcement of no talking and no cell phones partnered with food delivered to you in your seat makes for the perfect movie experience.
South Congress Cafe – This is a fancier place than I think the word Cafe makes you think. It's our more expensive date night pick. The steak au poivre which is no longer on the menu, made me into a steak lover.
The White Horse
Blue Dahlia Bistro – I dream of the coq au vin blanc. Legitimately dream about it. Also their cheese plates are top notch.
Jo's on South Congress – Probably better known for their "i love you so much" wall than their coffee; however, Belgian Bombers were our every Saturday morning treat for the year we lived across the street from this location and they are AMAZING.
Elizabeth Street Cafe – A Vietnamese place and a french bakery had a baby. Anywhere you can get Pho for dinner and macaroons for dessert is a magical place.
Torchy's Tacos – All day every day. Give. Me. Tacos. Also, their very spicy queso is awesome.
East Side Show Room
Sway – Date night a few weeks ago, we sat at the bar that looks into the kitchen which was fascinating. Super delicious too.
Austin Convention Center
Perla's Seafood and Oyster Bar – I think more expensive than it's worth for dinner, but they have an great brunch.
Hillside Farmacy – LOVE. This was one of our first places we went after moving to Austin so it would have a special place in my heart no matter what, BUT, the food is incredible and the vibe of the restaurant is just perfect.
Cenote – Coffee coffee coffee. So good. Also, they have good food and a cute frog statue out back.
Guero's Taco Bar – Delicious Tacos – Obvs. But here's a little secret, they have the best pancakes I have ever had in my whole life on the breakfast menu. They come with fresh fruit and are seriously life changingly delicious
Broken Spoke
Zilker Park – Green green grass, tons of off-leash puppies, a beautiful view of downtown, and the place where Blues on the Green happens. There's no downside to Zilker.
Contigo – I'm obsessed with this sweet little rustic joint. I freaked out a little more than is acceptable that they have magnet clips to keep their menus on the side of your table so you have room to eat. I enjoyed the drinks more than the food, but this place has a great vibe and is worth swinging by.
Magnolia Cafe South Congress – "Sorry we're open." is what the sign says. Also, fun fact: This place was on Diners Drive-In's and Dives. Of course, the food they featured is not what I would order there. They have some killer queso though, get that. Not to mention they're open 24/7 so you can always get some delicious food.
Justine's
Black Sheep Lodge – Delicious burgers – your basic bar food, but you know, genuinely delicious. This place gets REALLY rowdy during sports games so if that's not your scene – steer clear until the offseason.
Quickie Pickie– Think organic convenience store meets cute little coffee shop meets delicious cafe. Since first trying their coffee and food, I've been back 4 times with friends for brunch/lunch, and stopped in for the random grocery need. This place embodies Austin for me, and I can't express enough how much I LOVE it.
Thunderbird Coffee – A lot of seating, fast internet, delicious coffee. It's the trifecta for coffee shops.
Polvos – AMAZING Mexican food. Get some margaritas and order the queso. It comes with the mix ins that you can add yourself so everyone's queso can be just the way they like it.
This slideshow requires JavaScript.
xoxo,
Adora